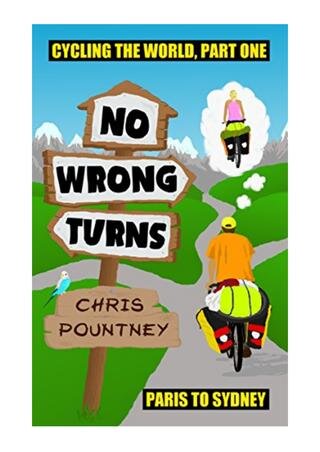 Over the last few weeks, we have followed Chris on his adventures through Canada, Kazakhstan, and Peru.  His book 'No Wrong Turns: Cycling the World, Part One: Paris to Sydney' gives further insight into how his journey began. Chris embarked on his travels around the world not once but twice, tweaking the parameters by which he would complete this challenge.  Beginning his exploration afresh he had some basic principles he wouldn't compromise – he would only travel by bicycle or boat.  This brought a variety of challenges his way but nevertheless, he was not swayed from his course.  Within the first few pages, the joy at breaking free of convention and striking out on his own is felt acutely by the reader. Chris writes, "I felt so alive, and I took a big, satisfied inhalation of fresh country air to appreciate where I was. The overpowering smell of manure made me slightly regret that, but even so, it could do little to dent the joy I felt now that my big trip was underway.  It was a really special sort of happiness…".  The sense of excitement dotted with humour has a transporting quality where you feel like you are riding a bike right alongside.
The book traverses many countries each with its own personality.  Chris creates a vivid depiction of each place describing the weather, landscape, and most importantly people.  Not all experiences were positive, but although there were often language barriers the kindness he found on his travels was substantial.  The encounters with bicycle trouble, hunters, and finding (safe!) camping spots often fill the reader with a sense of trepidation – imagining how it would have felt to be there.  In a time where Covid has taken over travel, it reminds us of a simpler time where adventures could be had, and a man decided he would cycle around the world.  And he did.  Through many trials and great distances, there was also joy, happiness, and love.  How will the journey continue and what will happen next?  I'll be finding out by reading 'Into the Sunrise: Cycling the World, Part Two: Sydney to Mori'!
Join the Conversation
Join the waitlist to share your thoughts and join the conversation.