Is a Sicilian, English, Canadian educator and mother of three. She has more passports than Jason Bourne but is probably less dangerous, most of the time. She really hates writing bios and has delegated the task of writing this one. She loves cycling, walking, and generally exhausting her husband -- possibly so he keeps quiet enough for her to get a word in edgeways.
---
Sicily - a small island in the Mediterranean Sea with a big attitude and a whole lot of heart. Growing up in London with Sicilian parents, we grew up surrounded by the Sicilian vernacular. Sicily may be part of Italy, but no one on the Island acts as if that is true, and when you visit, you would be forgiven for thinking it is its own country. 
Antonella had many visits to her homeland with her parents growing up, and the Island is very much part of who she is, and it is very definitely deep in her bones.  Our first family holiday to Sicily was in 1998. None of us was the experienced international traveller we would become, and saying we were on a budget would falsely imply there was any money for a holiday at all.  However, our parents/in-laws had been taking care of a very ill parent who had sadly passed away, and they really wanted to see us and (we suspect, more importantly) their grandchildren.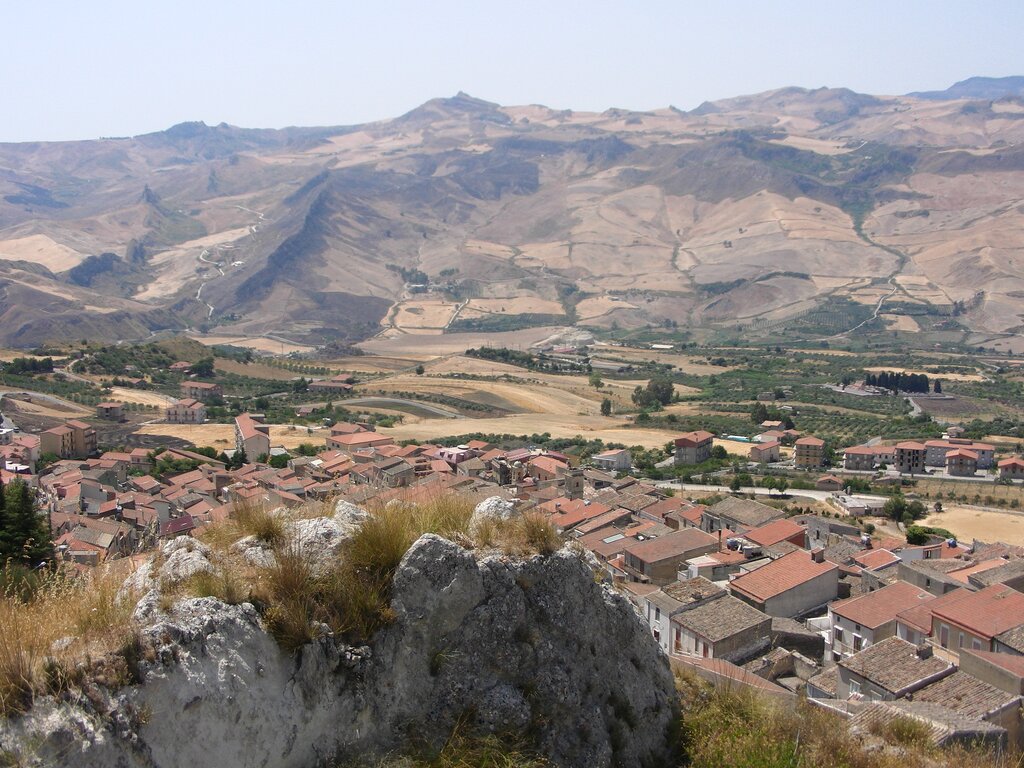 So, we booked the cheapest charter flight we could, which meant sleeping overnight at the airport, arriving at Catania very early and shoehorning three adults and two children into the tiny rental car.  Now our choice of car was influenced mainly by the size of our budget. Still, we would caution everyone that roads in Sicilian towns and villages were built for donkeys and carts, not cars, and you rent a larger vehicle at your own risk. The stone houses and steps will always win when they get into a fight with your car.
We will talk about some of the fantastic tourist areas of the Island, but our 'home' is in the interior of the Island.  Many visitors will probably never visit this great part of Sicily, but that is, without doubt, a mistake because it is a hot, dry, biscuit coloured wonder in the Summer and very surprisingly lush and green in the Spring.  So, whilst we will come back to the tourist spots, for now back to our journey.
It took three and a half hours from Catania (not including getting lost trying to leave the area around the airport (CTA)).  The roads were quiet. Later, we found out we arrived on Ferragosto, a national holiday ranking only behind Christmas and Easter.  Literally, everyone else was with their families, leaving the roads mercifully, if deceptively, quiet. Emperor Augustus first created this holiday as a populist move to give farmworkers a holiday when there was actually very little to do on the farms anyway and assumed by the Catholic Church to celebrate the Assumption of the Virgin Mary.  It is a fabulous time to be in Sicily because lots of towns and villages have festivals in the two weeks around or following this holiday, and they are fun.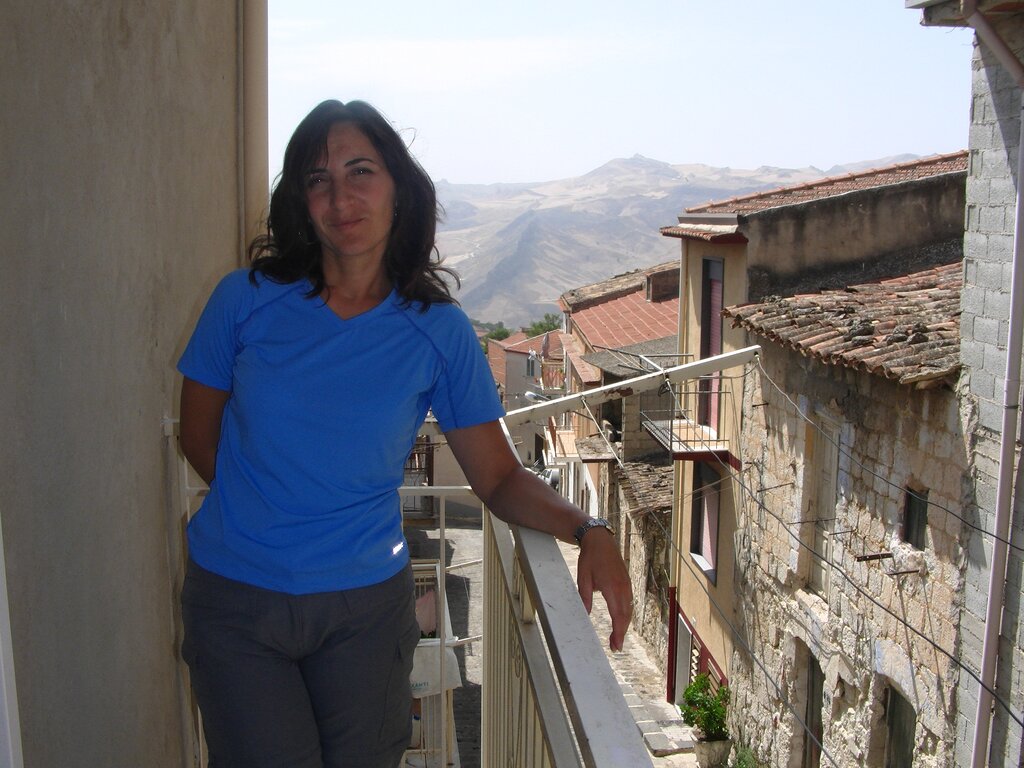 Our route to the interior took us around the southern foothills of Mount Etna, the almost constantly erupting volcano, past the hilltop city of Enna, through Caltanissetta and towards Agrigento before turning us north towards the interior and Acquaviva Platini our destination.  We will come back to each of these later but let's press on with our journey for now.  
The highway north from Agrigento eventually leads to Palermo, the Provincial capital. Whilst this highway has been significantly improved with a lot more dual carriageway zones since this first visit, at that time, it was appropriately called the "highway of death".  Three key factors led to its deadly reputation. It was busy with quite a lot of heavy transport in both directions. Much of it was one lane in each direction, and every Sicilian, regardless of age, gender, or vehicle, firmly believes they are a Formula One driver.  
The highway sensibly follows the valley of the River Platini much of the way to Acquaviva and then makes a very sharp turn right up a mountain.  This was perhaps the most harrowing part of the journey because this was a small and underpowered car,  the road was steep, and the car was packed.  To get to the house, we travelled almost to the top of the village and then turned down the road at the front of the house, and this 3-minute drive was possibly the scariest driving Steve had ever done. Please, refer to our comments on cars and stone houses (but, oh how little he knew).
We settled down to a siesta after an authentic Sicilian lunch of pasta and rabbit (we did not tell the children that).  The siesta partly recovered from sleeping in an airport chair the night before and partly in preparation for the evening.  Life in Sicily at this time of year gets going at ten pm and keeps going for a long time.  As this was a holiday, there was a live band and dancing outside the town hall. This was terrific fun. The warm night, the music, the beer and wine, and the street snacks combined to make it one of the most fun nights we have ever had.  Steve also discovered that he had a LOT more cousins, aunts, and uncles than he had ever thought possible.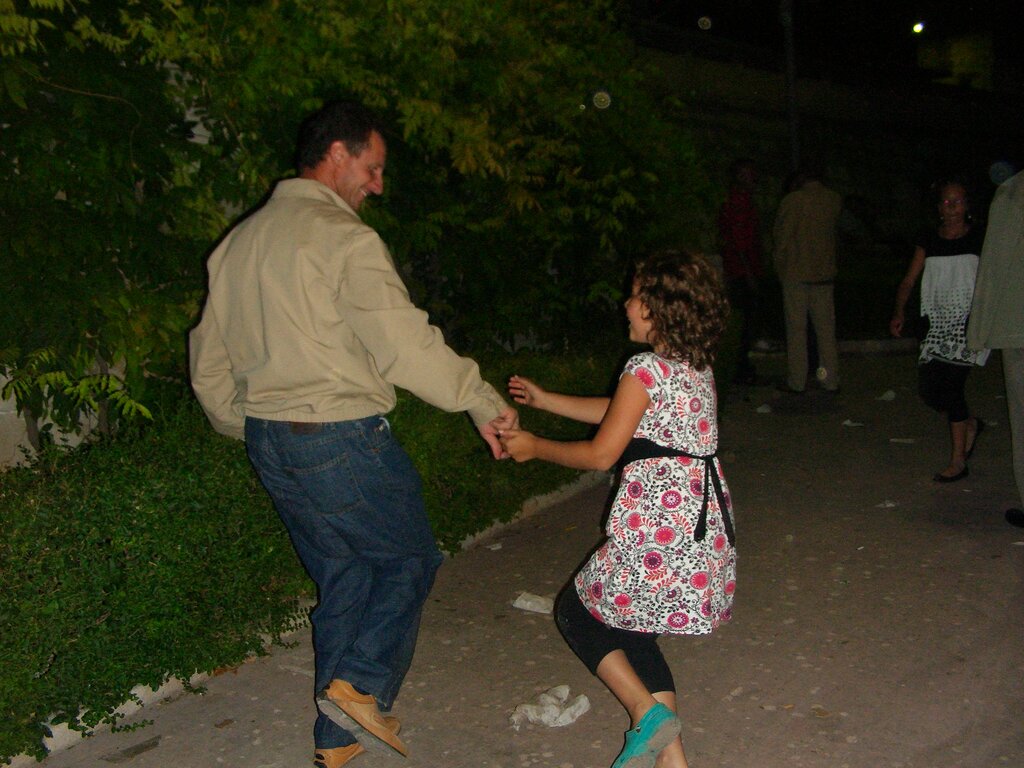 During our last trip to Sicily, Ferragosto was a spectacular seafood evening meal for the extended family at the Ristorante Golden Beach Via Lungomare Nettuno.  Fortunately, we declined the pasta course because the appetisers kept coming to the table until we thought for sure they had blended into the main course, but no.  The main course came later unhurried and expansive, as all good Sicilian meals should come.  True to its name, the Golden Beach is directly on the Beach in the coastal town of Porto Empedocle. After the dinner and wine, we headed to the Beach for an equally expansive beach party.  It remains a mystery how we managed to find all of our family members when it was time to drive home at 530am.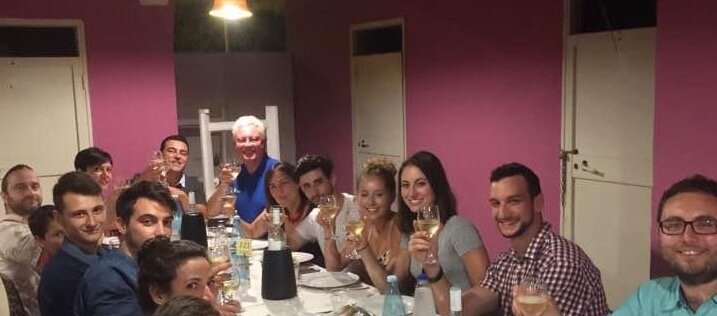 The interior can seem a little off the beaten track, and it can be difficult to find accommodation unless, like us, you have a family home to visit.  But in the last few years, many Agroturismo businesses have sprung up all over the Island.  These combine bed and breakfast with a farm business and often have a pool that is open to day visitors for a small fee.  One of these very close to Acquaviva is the Tenuta Lanza il Mulino run by an amiable brother and sister with a beautiful pool and lovely food and drink service.  
Water parks have also sprung up since 1998, and the closest one to Acquaviva is Scivolandia Cammarata. It is bustling and loud, but a lot of fun with enough slides to keep everyone happy -- but bring the waterproof sunscreen. The sun can be brutal.  For a quieter day by the pool, the Villa Giatra Hotel also allows you to use their pool for a modest fee and purchase a swim hat for everyone who didn't bring one!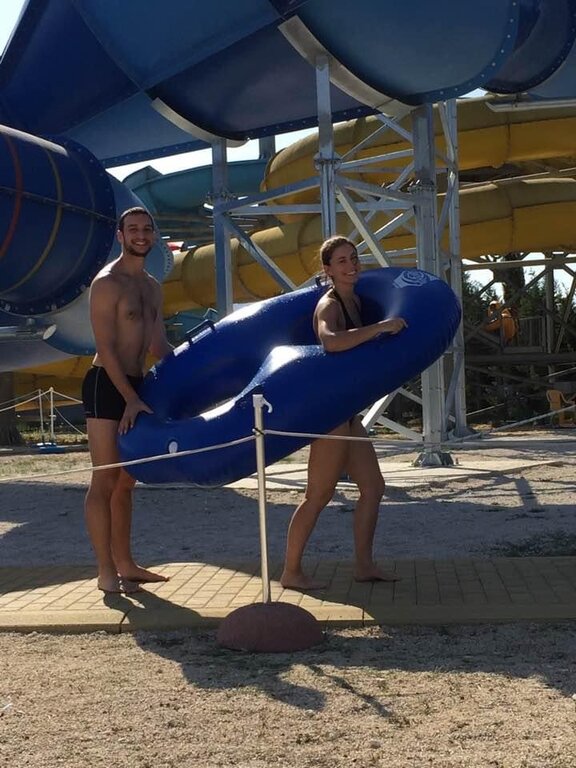 Close to Porto Empedocle is the ancient Greek city of Agrakas, now Agrigento, home to one of 7 UNESCO World Heritage Sites on the Island. The Valley of the Temples. Some of the best examples of Greek temples anywhere.  Most recently, they have renovated an ancient garden site adjacent to the temples.  This is well worth the additional time to see.  The range of plants, including citrus and olives growing there, is lovely, and somehow the garden manages to be a cool retreat from the otherwise unrelenting heat of the temple sites.
The other stellar example of Greek Sicily is Syracuse, the birthplace of Archimedes and a UNESCO World Heritage Site. The old town still contains the Fountain of Arethusa where the nymph Arethusa took shelter; the temple of Apollo; a Greek theatre with one of the largest seating areas ever built by the ancient Greeks; and the Ear of Dionysius, a limestone cave with peculiarly good acoustics and an interesting if probably fictional back story possibly created by Caravaggio. 
Close to the centre of the Island is Enna, which, you may remember, sits atop a hill.  It has spectacularly good views of the local area, precipitous cliffs, and an outstanding natural water supply. It really is one of the most well-appointed strongholds in the world.  It was also one of the centres for the cult of Demeter in classical times, and Lake Pergusa is where Persephone was carried off to the underworld by Pluto, with her mother's grief causing what we now experience as the seasons.  The town of Piazza Armerina is home to an amazing example of a Roman mosaic. Buried for centuries, the floor of what is thought to have been a hunting lodge Villa Romana del Casale is covered with extremely well-preserved mosaic art.  We have stopped at Enna on many early morning trips across the Island. The cafes in the Piazza offer some of the best views to accompany a cappuccino and pastry anywhere in the world.
Sicily is well renowned for its ceramic art. The centre of this industry is Caltagirone.  Whether you are looking for a couple of nice pieces to brighten your kitchen or for a real piece of ceramic art, you should visit.  It is a pretty town.h e Scallazza the 142 stairs leading to the church of Santa Maria Del Monte are well worth the climb or, if you parked wisely, the descent.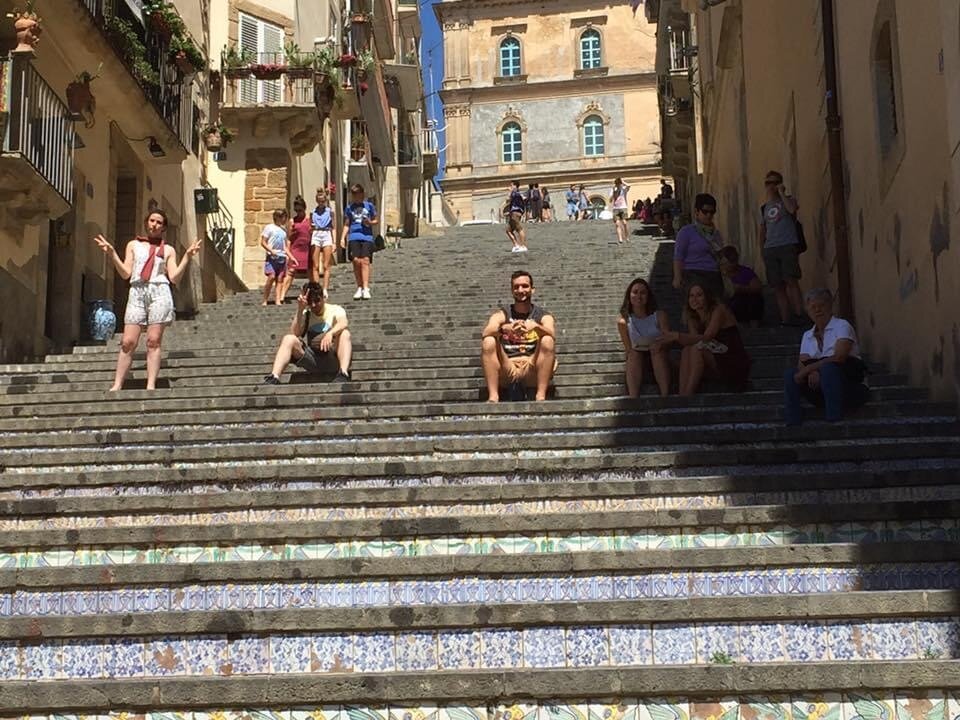 In ancient times, Sicily was forested with a temperate climate and year-round rainfall.  These conditions made it very suitable for grain growing, and it was the breadbasket of Rome.  Unfortunately, this agricultural expansion led to deforestation, erosion, and a shift in climate to be significantly more arid.  Agriculture is still vital to the island's economy, and nowhere is more fertile than the foothills of Mount Etna.  The volcano dominates the Island in every way.  Its basal circumference is 140 km. It covers 1,190 km2 and is about 3326m tall, although this can vary depending on eruptions. It is the most active volcano in Europe.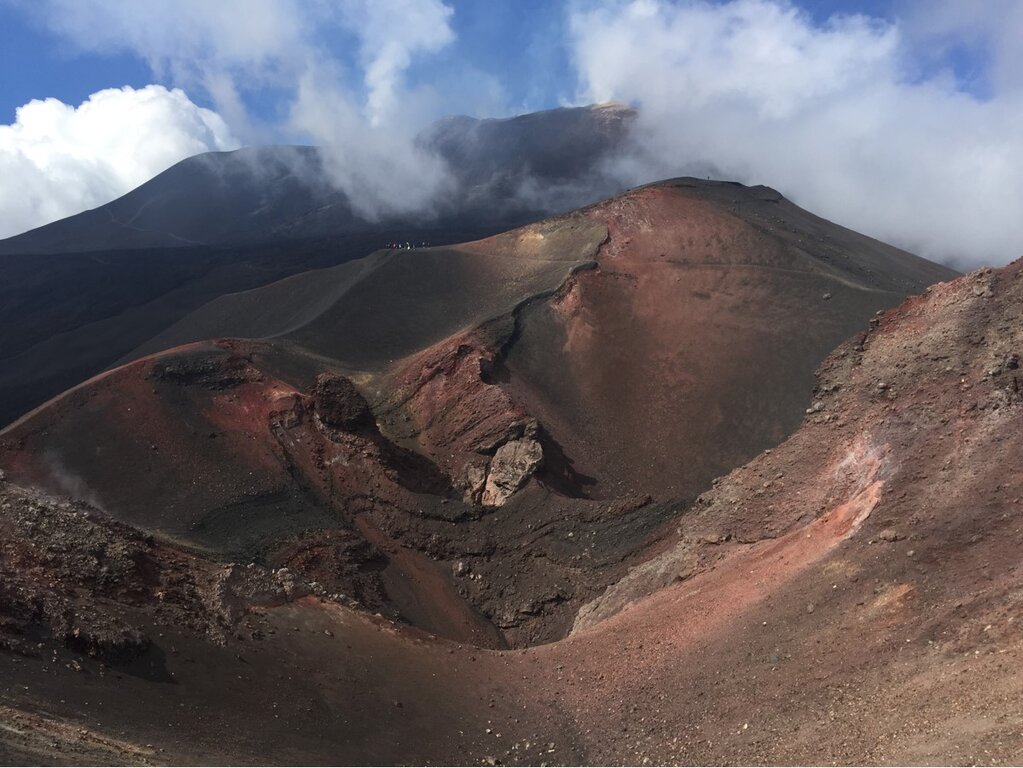 Indeed, we have never been to Sicily when it wasn't erupting. The road up the Mountain cuts back and forth through the cooled lava flows of previous years until it reaches 1920m and the base of the Funivia dell'Etna, the cable car that will take you further up the Mountain (2500m) and, in the winter to, the start of the Ski slopes.  Once at the top of the cable car, you can take a ride in one of the all-wheel-drive buses to the crater zone at 2900m, or you can make the 4-hour return journey on foot.  We recommend it on foot.  It really is a great way to appreciate the Mountain and provides relative solitude at a bustling tourist attraction.  
On our last trip in 2016, moving the top few centimetres of ash and rock revealed hot rocks still cooling from the previous eruption. We were told they were hot enough to cook an egg but, in all honesty, we didn't have one with us and so we can't confirm this.  You do have to make this trip once. We have done it on every trip. The Mountain is always different: not figuratively, but literally different. It remakes itself constantly, including destroying the last cable car towers. We don't believe we have ever ascended the Mountain using the same track. Still, each new one does give you an excellent view of the twisted remains of its predecessors.  
The Mountain is dangerous, it is very high, and if you are going to walk it, be prepared, we have experienced more than a 25C temperature drop from the base to the crater limit, and it can often be wet.  Tourists are often caught unprepared, so don't be like them.  Also, the crater limit is there for a reason, and unless you're with a qualified guide, please don't go beyond it. Even the otherwise relaxed Sicilians get pretty testy.
In the shadow of the mountain right on the coast overlooking the Strait of Messina is Taormina, the tourist trap of all tourist traps on the Island.  It is beautiful; the blue of the Mediterranean, the brooding presence of the volcano, and the colour and life of the city combine to make it a place that draws in almost all visitors to the Island.  Please visit, keep your hand on your valuables, and only buy a souvenir you really, really will die without, because you can probably buy the same thing somewhere else on the Island for significantly less.
Nothing on the Island can really compare to the volcano for natural splendour. Still, the Scala dei Turki (Stair of the Turks) on the south coast between Agrigento and Siculiana Marina is breathtaking.  The cliffs are made of a bright white limestone rock called marl, which has eroded to form steps.  The Beach is nice, although not amazing and very busy, but the scenery is amazing.  Beware, though, as we found out to our cost, the rocks are supernaturally slippery when they are wet and just as hard as ordinary rocks.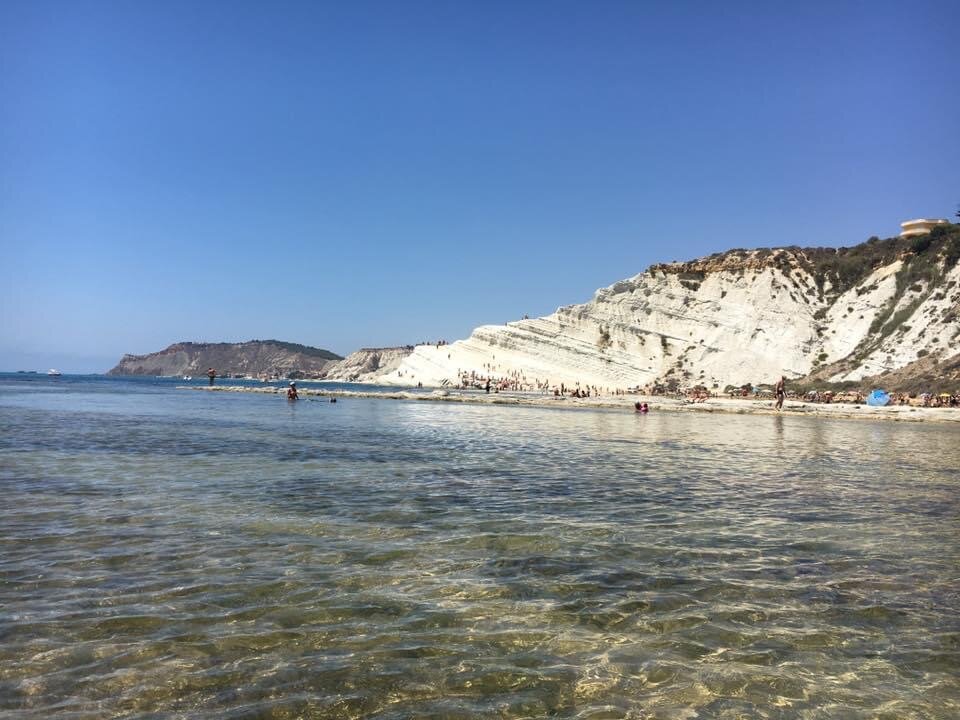 Sicily comes alive in the summertime with the emigrants returning to their homeland to spend time with family and catch up with friends they only see in Sicily. The tourist spots are great to visit, and the beaches and pools are lovely on a summer day.  But it is the people, the family, and friends whom we love that keeps us coming back.  
When you are there, you will hear people speaking in broken English interspersed with common Sicilian vernacular. Antonella feels right at home listening to this mish-mash of languages and often finds herself asking her cousin how to pronounce particular words. Without a doubt, if you can manage to wrap your tongue around the Sicilian pronunciation, you might be taken for a local and therefore treated as such. Prices might even become lower. Here are some useful Sicilian words and phrases that you can use for different occasions. Hearing these words spoken by the locals might get you thinking that you are on the set of the Godfather, be careful, or you might get an offer you cannot refuse!! 
Amuninni – let's go, in Italian, you would say Andiamo. You might use this word when you are with friends, and it's time to leave.
Portami u cuntu – bring me the bill. We have it on good authority (thanks to Calogero and Cettina) that you will be charged local prices instead of tourist prices if you ask for a bill like this.
Unni è – Where is it?, in Italian, you might hear someone asking dov'è.
Bedda Matri – which literally translates to beautiful mother. You might use this word when you are surprised or scared; an English equivalent would be like you saying, "Oh my God". 
If you are interested in learning some common Sicilian greetings here is a helpful video. 
Mancia – everyone's favourite thing to do is "eat". When fulfilling your obligation as a returning emigrant visiting the Island, you must make time to go and visit all your elderly relatives. Typically, you do this twice, once when you arrive and once before you leave. A word of warning, if you visit multiple people in one evening, you will be offered food and drink. If you are full, you politely accept a glass of water. It is common when you visit that you bring a gift of food.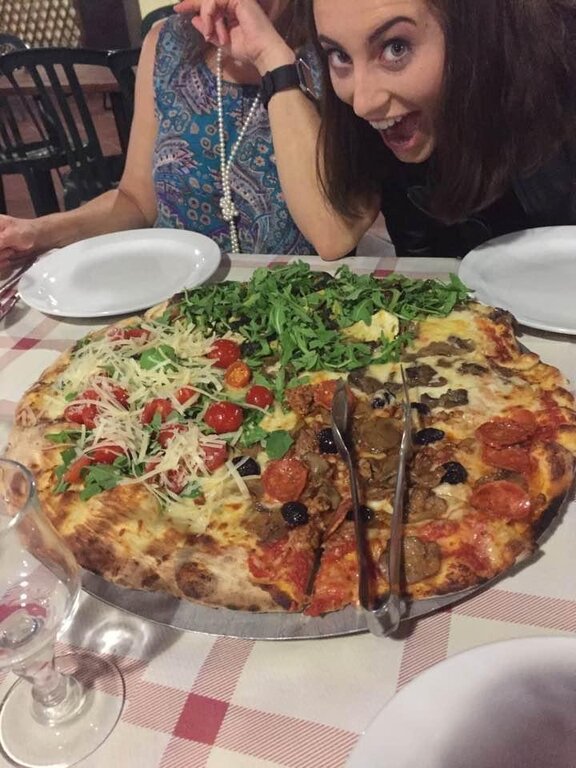 Luckily since our first visit, a supermarket has been built so you could buy your goods from there. Alternatively, you may choose to buy your wares from the local markets. Here you will find farmers selling locally grown fruits and vegetables. The market vendors make a living visiting different towns throughout the week. The market in Acquaviva happens on two mornings a week. If you have a car, you can drive to Mussomeli for the market. It is quite an adventure. You can find fresh fish for sale here as well as your typical market goods.
If you are looking for food, you will not be disappointed. There are many restaurants, bars, and pizzerias that will satisfy your hunger.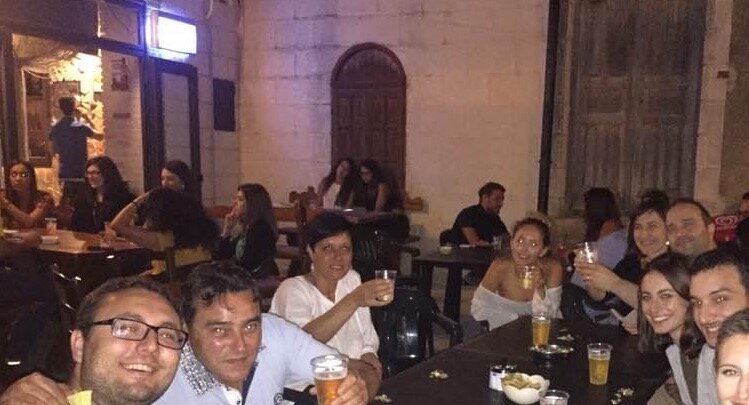 Bar La Sosta SS115, 153, 92014 Porto Empedocle – is where you will find, in our humble opinion, the BEST pistachio ice- cream in the world. It was nine years between the first time we tasted this gelato and making our way back to this very unassuming roadside bar after our trip to the beach. We can say without a shadow of a doubt that the children did feel the same way as us about the quality of the gelato here. This will undoubtedly be a place to stop the next time we are lucky enough to visit Sicily.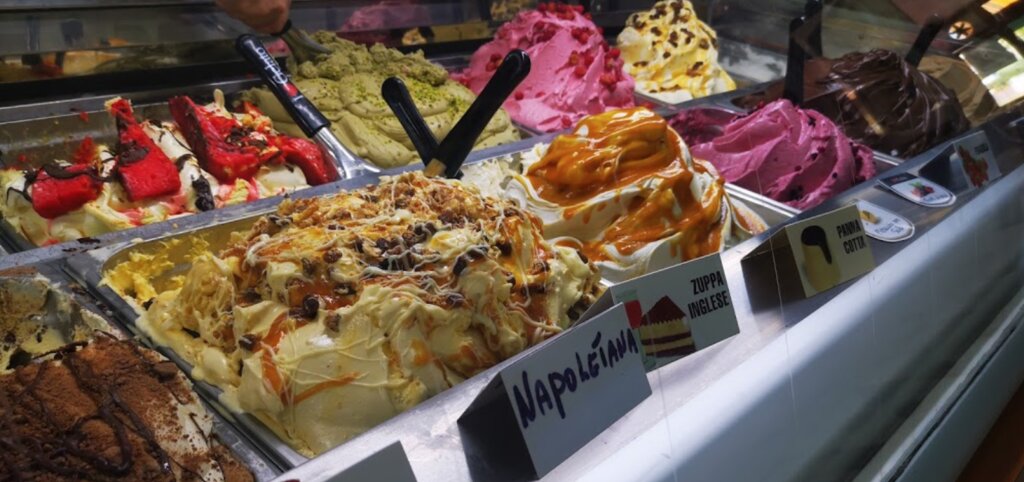 This article would not be complete without mentioning the Stop and Go 2 found in a little side street in Mussomeli - Via Giovanni Boccaccio 4, 93014 Mussomeli, Sicily Italy- (and although the name of this establishment does not give away what it sells) is a locally owned pizza restaurant that makes great pizza. The service, the staff, and the food make it well worth a visit if you are in the area. 
Panelle are chickpea fritters commonly sold as street food in Sicily. They are often served warm between slices of country bread. The first time we had them was when we went to see one of Mum's friends in Casteltermini. Although Casteltermini is only a 30-minute drive away from Acquaviva, it is not a place we often visit. On our first (and only visit), we were met by a flock of sheep busily taking up space in the road and preventing traffic flow. Elisia was intrigued by their behaviour, and we can attribute Elisia's profession (Vet) to this very point in time! Although this was the first time we had eaten Panelle, it was definitely not the last. In fact, we actively search them out in the festivals we attend.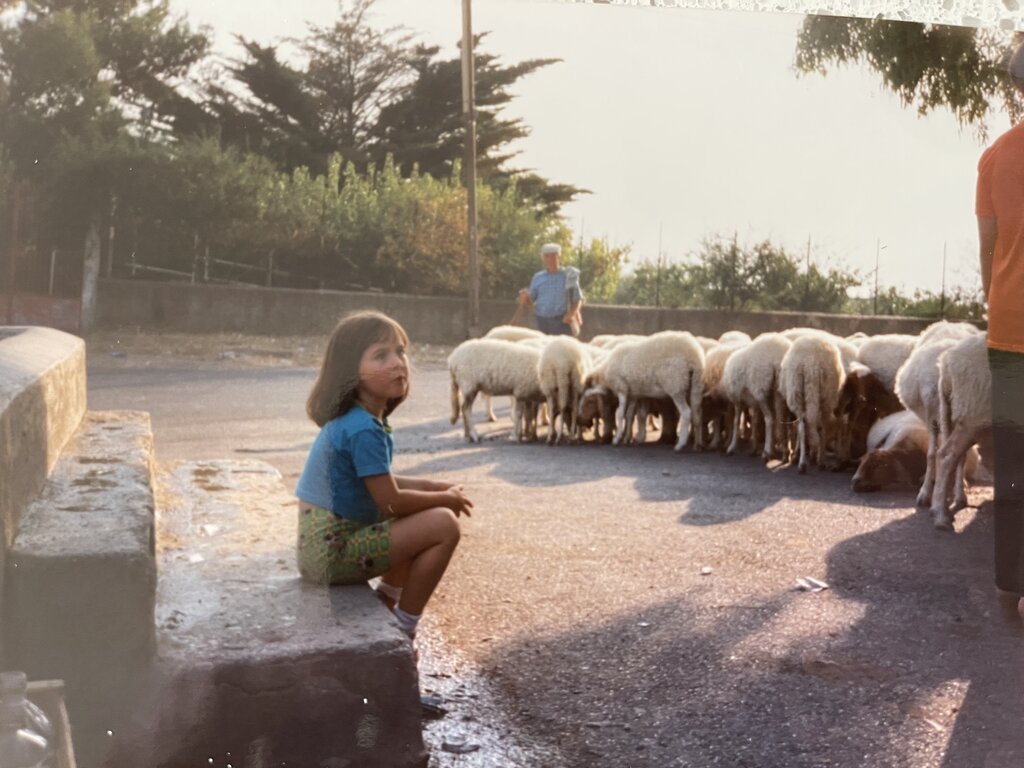 No visit to Sicily would be complete without tasting the local cheese, wine, bread, spaghetti, gelato, Cannoli 😊. Cannoli are tube-shaped shells of fried pastry dough filled with a sweet mixture of ricotta, dried fruit and then dipped in crushed pistachios. Well, that's how we make them anyway. There are as many variations in the recipes as there are places to buy them in Sicily. Our fondest memory is celebrating Steve's 30th birthday with a platter of Cannoli. Just remember, one is never enough!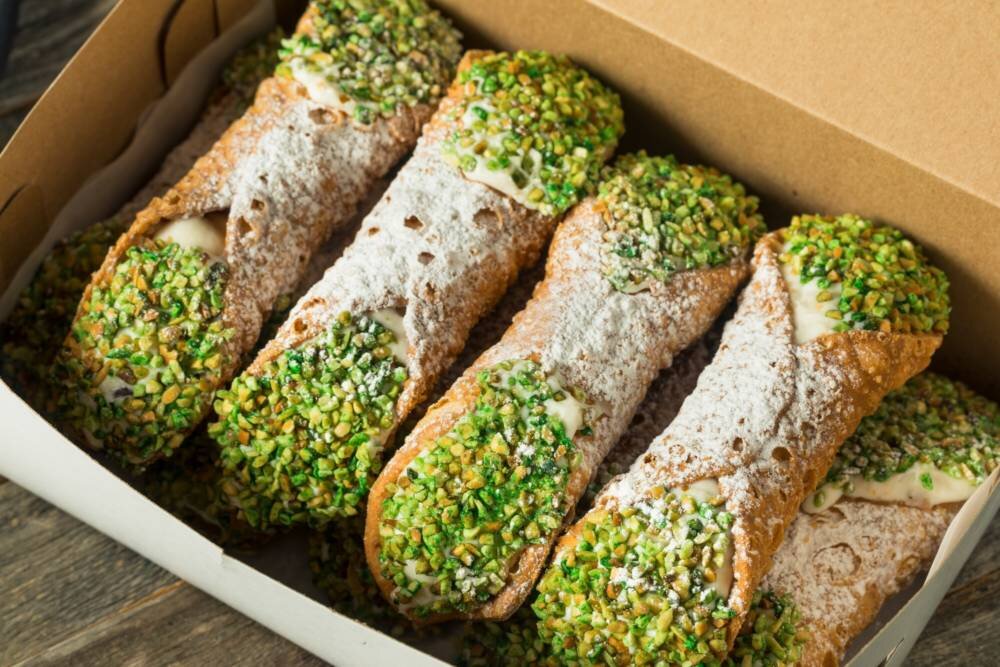 Have you ever heard of Limoncello? The first time Antonella tasted it, she could not believe that she used real, local lemons to make this alcoholic beverage recipe here. Antonella gets her love of lemons from her mother and grandmother. Lemons taste good, but they also have medicinal properties and can treat any ailment you have (think of My Big Fat Greek Wedding and how Gus uses Windex to treat his ailments) -- that is how lemons were used at home whilst she was growing up. The last time Antonella was in Sicily, eating at her cousin's house (Steve did mention that we have a LOT of cousins, right?), she was surprised to learn that she could make her own limoncello and how easy it was to do. We have a plan to make a batch ourselves. Keep an eye out for that post which will be tagged under food and drink.
All that is left to say is that Sicily is a little Island in the Mediterranean sea. It has our hearts, and if you visit will have yours too. 
Join the Conversation
Join the waitlist to share your thoughts and join the conversation.
Is a Sicilian, English, Canadian educator and mother of three. She has more passports than Jason Bourne but is probably less dangerous, most of the time. She really hates writing bios and has delegated the task of writing this one. She loves cycling, walking, and generally exhausting her husband -- possibly so he keeps quiet enough for her to get a word in edgeways.