This recipe is a warming and hearty take on my mums "chicken and dumplings". 
This gorgeous stew with dumplings is a comforting winter dish, full of flavour and the added fluffy dumplings really make it memorable and delicious.
As for me, this year marks 10 years being Vegan! Changing to a vegan diet has inspired me to fall in love with cooking all over again. My mum's passion for cooking has always been an inspiration to me, and this has really been my motivation to continue to make wholesome vegan recipes like this one.
Preparation notes:
 You will need a large pot that has a tight-fitting cover

 Prep your stock ahead of time (follow the instructions on your preferred stock)

 Get 1 cup of peas out of the freezer so they can thaw whilst you prepare your vegetables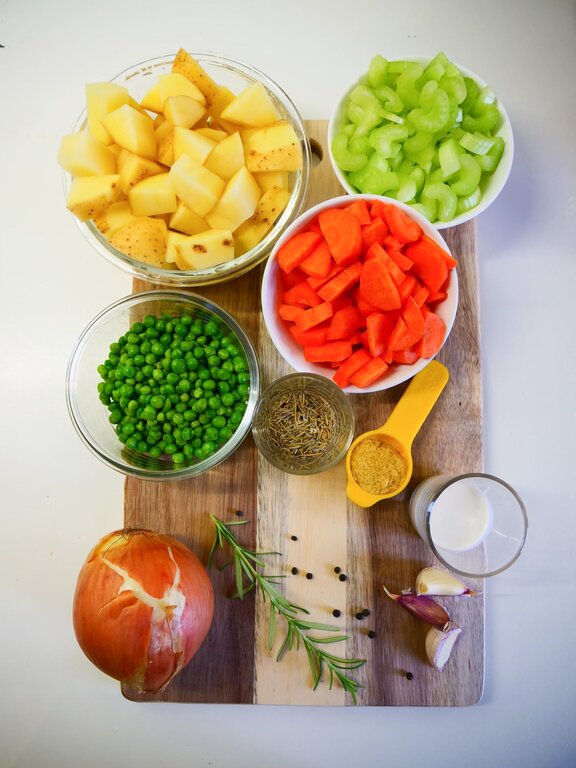 Ingredients:
 3 tbs oil

 1 tsp butter

 3 tbs flour + 1 tsp 

 1 litre of stock (veggie stock or vegan chicken stock) 

 2 tbs cream (oat or soya cream)
Spices:
 1 tsp dried thyme (or 1tbs fresh)

 1 tbs dried rosemary (or 1 ½ tbs fresh)

 ½ tsp oregano

 A pinch of black pepper (or 6 whole peppercorns)

 1 tbs nutritional yeast (optional, but adds a bit of creaminess to the stew)

 1/8 tsp salt
Vegetables:
 3 cloves of garlic 

 1 large onion

 3 heaped cups (approx. 590 grams) of potatoes, cubed (think bite size!)

 3 'ribs' of celery 

 3 large carrots (approx. 1 cup) cut into half-moons

 1 cup of frozen peas (thawed; refer to preparation notes)
 Dumplings:
 1 ½ cups of self-rising flour

 1 tbs Rosemary (Or any other herb you prefer!)

 2 tsp baking powder

 ¼ tsp salt

 3 tbs of soft plant-based butter

 ¼ cup of plant-based milk (I use oat or almond)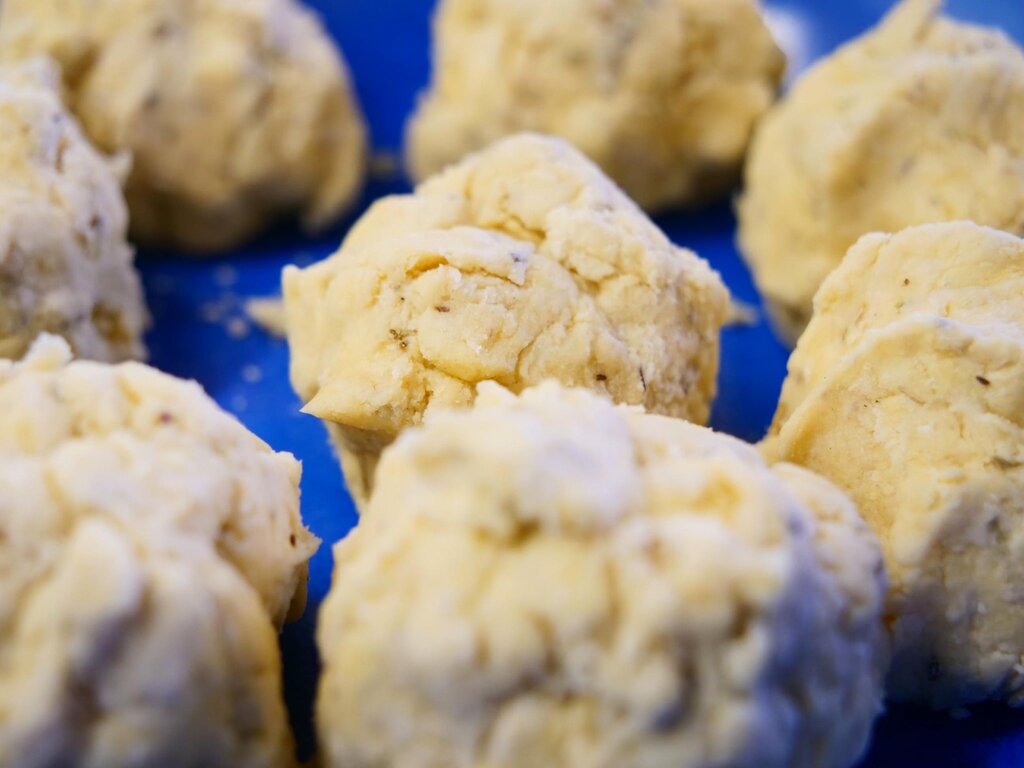 Stew Instructions:
 First off, we will start by making our thickening "roux". 

 Add 3 tbs of oil and 1 tsp of butter to a pot over medium heat. slowly add the flour (3 tbs flour + 1 tsp) and cook for 5 minutes, stirring continuously. The consistency will become thick and bubbly.

 Add onion and salt and cook for 7 minutes. The onion should be covered with the flour and oil mixture. Add garlic and cook for a further minute.

 Very slowly start to add your stock and keep mixing/whisking so the flour does not clump together. Now add 2tbs cream and stir.

 Add your spices & nutritional yeast (optional), along with the potato, celery & carrot. Cover and bring to a full boil, stirring regularly. once boiling, uncover and turn the heat down to a simmer and let cook for 18 minutes 

 Whilst that is cooking you can start to make your dumplings. 

 After the 18 minutes are up, and before you drop your dumplings, add in 1 cup of peas.
Dumpling Instructions:
 In a large bowl sift together flour and baking powder. Add salt and dried rosemary and mix together.

 Cut in butter, preferably with a handheld pastry blender until the mixture looks crumbly. Slowly add in ¼ cup of milk until the dough sticks together. It's important at this stage not to overmix the dough. 

 Don't forget! Now is the time to add the 1 cup of peas.

 Now lightly roll the mixture by hand into 8 small balls and drop on top of your stew and cover, leaving the heat on simmer. Once the cover is on, leave for 20 minutes – NO PEEKING!  
Recipe comments:
This is a very diverse recipe, and you can add or change spices and consistency to your liking. If you like your stew very thick, the roux can be made using more flour and oil in equal parts. 
This is a vegan take on chicken and dumplings. You can now purchase alternative vegan chicken pieces from most grocery shops which would be a great addition. You can add 1 ½ cups of vegan chicken pieces to the stew by frying for a few minutes first and adding this in before you add the peas and drop the dumplings in and cover.
Join the Conversation
Join the waitlist to share your thoughts and join the conversation.