Chef Lucy's Spring Favourites 
Lucy Ponsonby cooks for a young family three evenings a week. Although the children are young, they encourage her to prepare quite sophisticated cuisines from all over the world. A particular favourite is Japanese. It's a popular request across the board, although one of them would prefer her dishes to be beige and has a profound love for Toad in the hole!

Rhubarb and Plum Relish Rhubarb is usually in season from April through to June. Pork belly or loin -- with sweet potato mash and green beans -- complement this dish particularly well, creating a really juicy sweet and savoury vibrant plate.
Serving Size - 12-18 portions
Ingredients & Quantities
4 Rhubarb Stalks, 2 cm pieces
115 g Caster Sugar
115 g Red Wine Vinegar
1 Star Anise
1 Cinnamon Stick
1 Red Chilli, finely sliced
6 Red Plums, halved
2 cm Ginger, finely sliced or grated
Method
Place the halved plums, chilli, star anise, cinnamon stick and red wine vinegar in a small saucepan. Add half of the measured sugar and bring just up to the boil, stirring well.Reduce the heat to low and simmer for 15 mins, stirring until a jam-like consistency. Place the chopped rhubarb in the saucepan with the remaining sugar and thinly sliced ginger, cook for 10 mins until the rhubarb is tender but not falling apart.
Finally put into a sterilized glass jar and leave to cool. It is now ready to eat or refrigerate. Consume within 2 weeks.

Wild Garlic Butter - If you are able to forage for wild garlic locally, this is a great thing to do right now. It's abundant in Oxfordshire from late March to July, usually in shaded woodlands. Once made, you can freeze a batch or two to then use throughout the year. It's great over asparagus or when treating yourself to steak. This recipe was borrowed from Chef Kuba https://www.kubawinkowski.com/ an incredible Cotswold based chef and restaurateur.
Serving Size - 2 large pats
Ingredients & Quantities
Two large handfuls of wild garlic
50 g natural yoghurt
900 g double cream
50 g sea salt
Method
Add 50g of natural yoghurt to 900g of double cream, leave to rest for 36 hours. The cream will thicken and develop a sour taste. If not leave for an extra 12 hours.
Mix fermented cream in a mixer or blender until buttermilk is released.
Strain away the buttermilk (or keep this if you want to use it for baking) and wash the butter several times in cold water until water runs clear. Blend the wild garlic leaf until fine and pass through a sieve.  If you're feeling lazy and don't mind more of a bitty green covering you can skip the sieving and just blend!
Combine the butter and place in a Magimix with the wild garlic puree, 30 grams of sea salt and mix well, until the colour is a consistent green.
Once butter is fully mixed, shape it into pats or logs and chill it in the fridge or freeze.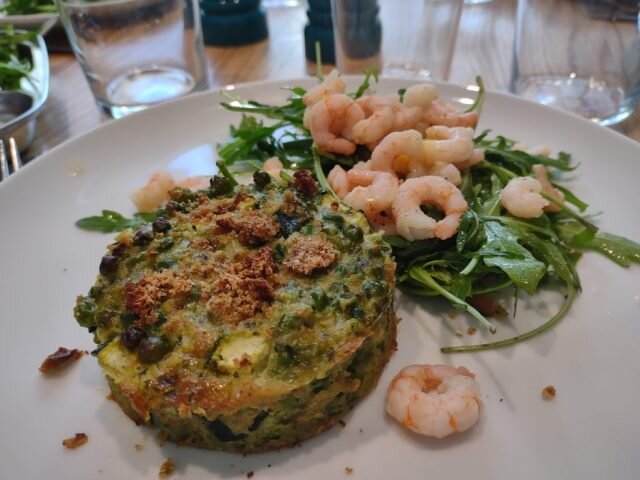 Pea & Courgette Tarts - I would recommend a rocket salad to accompany the tarts. If you are fortunate enough to have a Thermomix - https://thermomix.vorwerk.com/thermomix/ then you might know this recipe. I have adapted it to use with a Magimix. The tarts are more time consuming than the previous recipes, you need round tart rings but it's worth it now we are easing out of COVID restrictions, and can host a small spring party.
Serving Size - 6 portions
Ingredients & Quantity
 10 g wholemeal bread
25 g parmesan cheese, cut in pieces (2 cm)
30 g olive oil, plus extra for greasing
60 g onions, quartered
10 sprigs parsley, leaves only
2 sprigs fresh mint, leaves only
1 garlic clove
175 g frozen green peas, defrosted
1 tsp fine sea salt
1 pinch ground black pepper
150 g courgettes, diced (1 cm)
30 g double cream
1 pinch ground cayenne pepper
 Method
Preheat the oven to 180°C
Place bread in a Magimix and blend, set aside.
Grate the parmesan or Grand Padano for a cheaper option.
Place oil, onions, parsley, mint and garlic in the magi mix and then pulse 4 times so chopped, scrape down the sides with a spatula. Add to a frying pan and saute.Meanwhile, get out the chef rings, grease the base and sides with oil and dip into bread, put onto roasting trays. Add peas to saute mix, season with salt and pepper, add chopped courgettes and mix well. Transfer to a bowl and set aside.
Place cream, eggs, cayenne pepper, remaining ½ tsp salt and reserved cheese then mix. Pour over reserved vegetables and stir.
Pour mixture into chef rings, don't worry about mixture leaking, you can cut these off when cooked for the cook to snack on!Bake for 25-30 mins, remove tarts carefully by running a knife around the chef rings.
Enjoy!
Join the Conversation
Join the waitlist to share your thoughts and join the conversation.