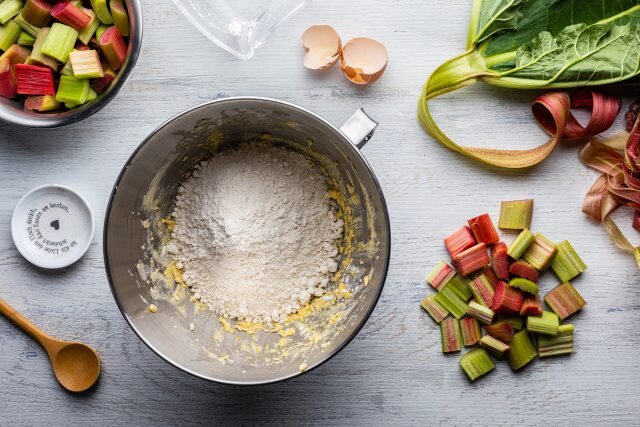 Serves 9-12
180g butter, softened at room temperature, plus extra for greasing 
180g golden caster sugar, plus 3 tbsp
3 large eggs
1 tsp almond extract
180g ground almonds
180g self-raising flour
1 tsp baking powder
360g slender rhubarb, trimmed and cut into roughly 2cm lengths
25g flaked almonds


Preheat the oven to fan oven 170C/Gas 4/340F. Grease a 30x20 (12x8in) brownie tin with butter and line the base with non-stick baking paper.
Put the butter, 180g sugar, eggs, almond extract, ground almonds, flour, and baking powder in a food mixer or food processor. Beat or blend until smooth and thick. 
Spoon the cake batter into the prepared tin and spread to the sides – it will be fairly thick. Top with the rhubarb, pressing gently into the cake batter. 
Sprinkle with the reserved sugar and then the flaked almonds. Bake for about 30-40 minutes, or until the cake has risen, lightly golden, and a skewer inserted into the centre of the cake comes out clean. 
Join the Conversation
Join the waitlist to share your thoughts and join the conversation.